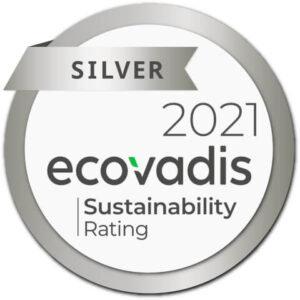 The Global QHSE Team are pleased to announce that Pentagon Freight Services have been awarded a Silver Sustainability Rating from EcoVadis for 2021. T​o achieve this rating, EcoVadis assessed Pentagon in the management of the Environment, Ethics, Sustainable Recruitment, and Labour & Human Rights.
So, what is Business Sustainability / Corporate Social Responsibility (CSR)?
Business Sustainability (or Corporate Social Responsibility (CSR)) is a management concept whereby companies integrate social and environmental concerns in their business operations and interactions with their stakeholders. It is the way through which a company achieves a balance of economic, environmental, and social imperatives while at the same time addressing the expectations of shareholders and stakeholders. 

In this sense, it is essential to distinguish between CSR, which can be a strategic business management concept, and charity, sponsorships or philanthropy. Even though the latter can also make a valuable contribution to poverty reduction, will directly enhance the reputation of a company and strengthen its brand, the concept of CSR goes beyond that.

Key CSR issues include environmental management, eco-efficiency, responsible sourcing, stakeholder engagement, labour standards and working conditions, employee and community relations, social equity, gender balance, human rights, good governance, and anti-corruption measures.
Why is CSR crucial for Pentagon Freight Services?
A correctly implemented CSR concept can bring a variety of competitive advantages. These include enhanced access to capital and markets, increased sales and profits, operational cost savings, improved productivity and quality, efficient human resource base, improved brand image and reputation, enhanced customer loyalty, better decision-making, and risk management processes.